Hi Everyone, from Tokyo
I have now been in the Olympic Village for 6 days – settled in, jet lag gone and getting ready for the action. You will recall week-1 was about setting up the Team GB accommodation block in the Olympic Village plus we have been out in self-drive Tokyo2020 cars to check out the venue medical facilities and processes for when the teams arrive.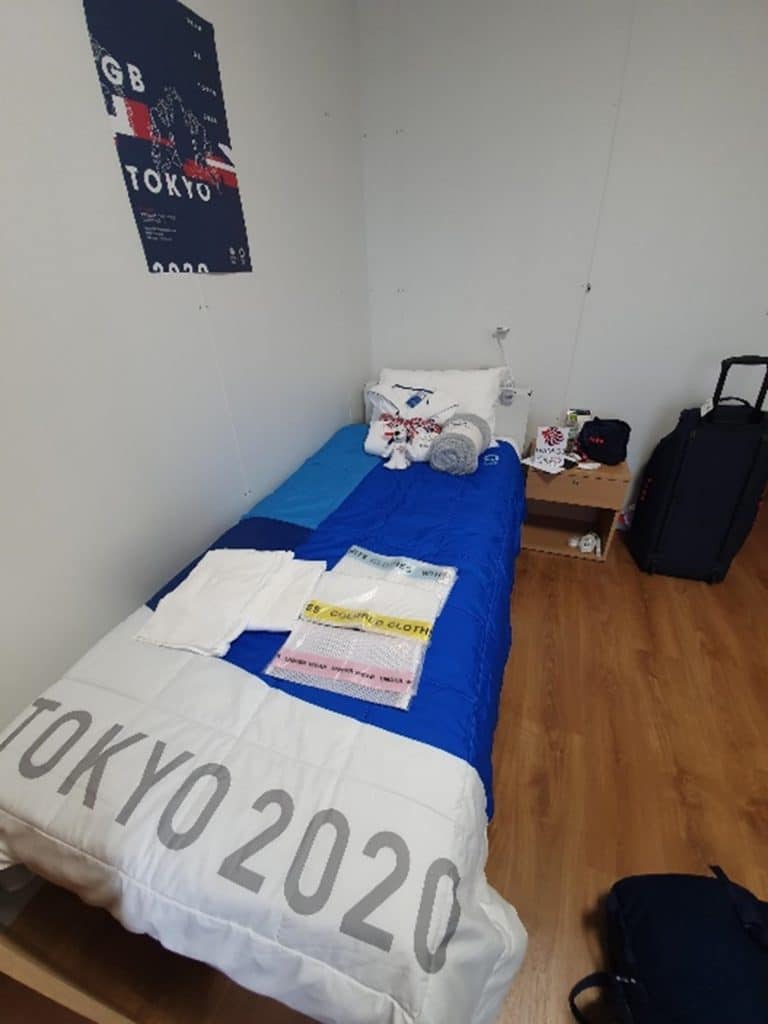 The 'getting ready' involves involves all hands on deck whatever your Games role helping before the athletes arrive, and for me, using my Swiss Army knife to construct various items – TV stands, furniture etc.
I also put together one of the medical clinic rooms which has the ultrasound machine. Posters had to go up on the walls (lots of Covid reminders) and we hung many of the banners on the outside of the building – tied securely to the balconies as it's typhoon season which could strike at any time. All nations dress up their building so as you walk around all the countries' accommodation can be recognised. We are next to Australia and USA at the top of the site overlooking the bay.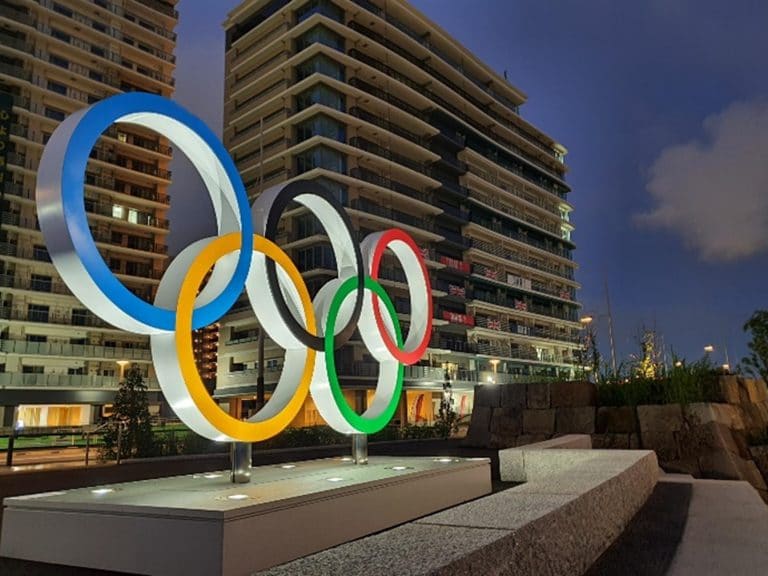 The village was quiet all last week until Saturday/Sunday when 5,000 athletes arrived, with more arriving each day this week. Everyone is daily tested for Covid and we have to wear masks at all times – even outside. I have been for a couple of runs in the morning in the village – last week all alone, this week amongst Olympic athletes! Still hoping for a qualifying time.
I have just got back today from a 1-hour drive to Keio University in Yokohama where Team GB has its 'prep camp'. The prep camp is a standard feature for most larger nations where athletes can train and acclimatize in a more laid-back environment before the move into the village. For Rio 2016 the prep camp was a one-hour flight away but here its pretty close.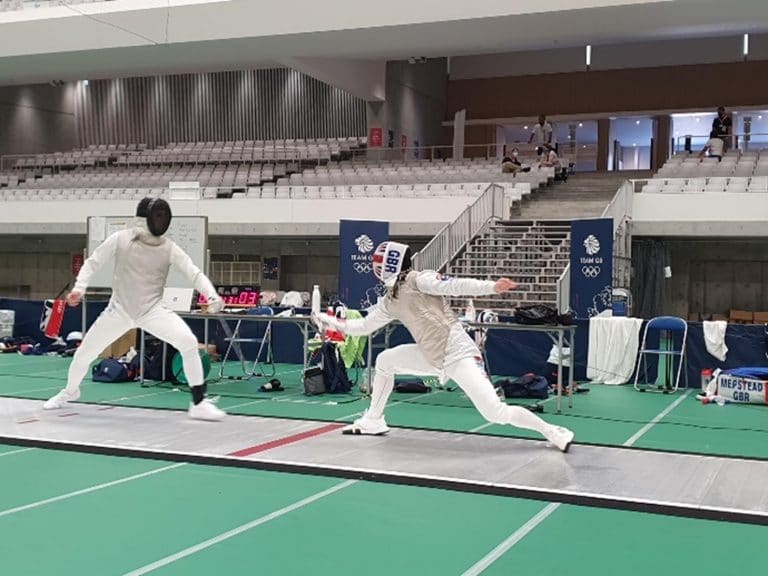 I went to catch up today with one of my link sports… fencing. It's a sport I haven't seen before, but it was pretty cool and Marcus Mepstead, our only Olympic fencer, was on a full-scale practice day as if in competition. He looked great and has a good chance of a medal so if you get the chance look out for and support him – he competes on Monday 26th .
I know it's been hot in the UK – it was 42 degrees today at Keio – just imagine doing a marathon on that!
My diving team (I am CMO) have just arrived yesterday so it was good to catch up with the 12 divers and other support staff whom I have had many exchanges with by WhatsApp and phone, but not seen face to face for 18 months re Covid. We have medal opportunities in diving – both Jack Laugher and Tom Daley have medaled previously, but the Chinese will be tough to beat.
The opening ceremony is Friday and then it will be full on competition – 8 hours ahead so you will be watching live in the mornings through to 3pm. Let's hope Team GB can raise the spirits of the nation again!
Otsukaresama deshita (see you later)
Graeme