Connect Health offers a range of clinical services spanning musculoskeletal (MSK) health, rheumatology, pain, women's health, mental health and occupational health services.
As a leading community healthcare provider, our services incorporate a specialist, clinically lead multi-disciplinary team (MDT) consisting of the below:
Physiotherapists
GPwER (GPs with extended role)
Occupational therapists
Sports and exercise medicine doctors
Advanced clinical practitioners
Pain consultants
Rheumatology consultants
Psychological Wellbeing Practitioners
Nurses
Rehab therapists
Podiatrists
Pharmacists
Clinical Psychologists
View our Careers
Quality Improvement
Our quality ethos drives clinical and patient outcomes. As a commitment to this ethos, each of the teams within our services have an objective to undertake an annual quality improvement (QI) project. This project is focused on ensuring that each of our services improve the care and experience of our patients to allow us to continue to be pioneering.
Clinical Support Tools
Connect Health has developed a unique set of clinical support tools covering the top 15 most common conditions in order to deliver and measure the most clinically effective care.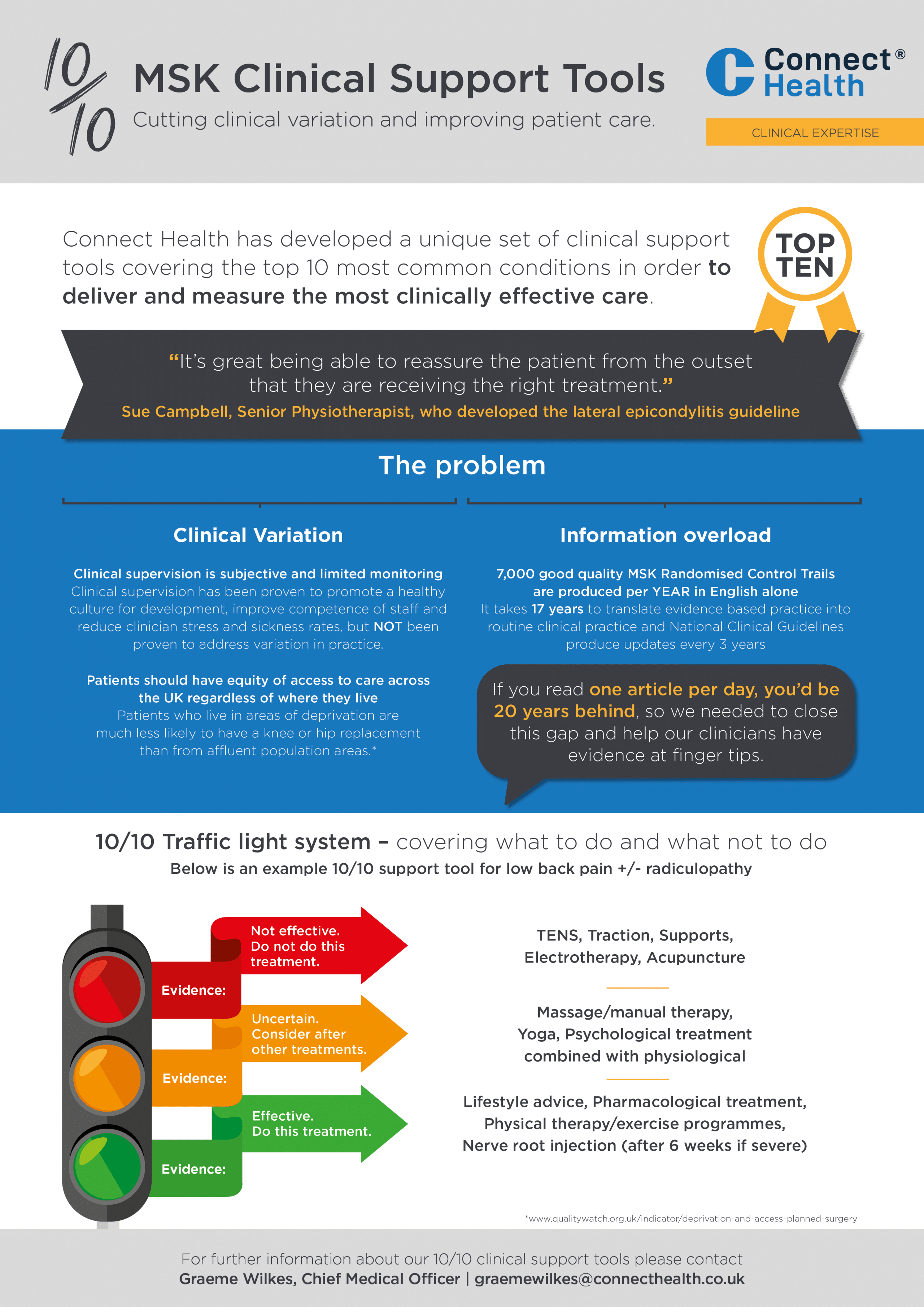 Governance
Delivering high-quality care is at the centre of what we do at Connect Health. With our innovative clinicians and pioneering approach to transformation and innovation, our clinical delivery is cutting edge. It is important therefore that we assure what we do, identify where things can be improved, and implement a robust approach that takes delivers that improvement.
Our Clinical Leadership team are supported by an array of supporting teams such as our operational, business intelligence and Smartdust colleagues to ensure that there is a real-time awareness of clinical quality, safety and patient experience so that we can identify areas that require our focus and bring about impactful change. This enables us to achieve excellent clinical outcomes with our patients.
Clinical Outcomes
Here we feature our partnerships in the NHS
Efficiency and innovative partnerships, working together to launch the Brent Integrated Musculoskeletal Service
Streamlining services to cut waiting lists and onward referrals in Brent.
NHS Brent Clinical Commissioning Group (CCG) is responsible for a population of approximately 375,305 patients across 54 practices. They selected Connect Health in January 2019 to provide the Community Physiotherapy Service for the patients of Brent. In October 2019 the contract was extended to include a Tier 2 Clinical Assessment and Triage Service (CATS) which provides a single point of access gateway for musculoskeletal (MSK) health, rheumatology, pain, women's health, orthopaedics and diagnostics.
Herts Valleys Community Integrated Musculoskeletal (MSK), Rheumatology, Pain and Postural Stability Service
With increasing pressure on the NHS, innovation is key in order to preserve services for future generations.
Our case study on the Herts Valleys Integrated MSK Service highlights the challenges the service met and the impact of Covid-19 on service delivery. As well as detailing service outcomes and performance, and feedback received from patients.
Raising the quality of MSK services in Hammersmith & Fulham CCG
We have been working with Hammersmith & Fulham since May 2016 and this comprehensive case study highlights achievements in the first year, the challenges of MSK, the journey to tendering, the elements of the service and the positive impact on patients.
For the first year of the service significant improvements have been made;
Reductions in secondary care referrals by GPs year on year

14% reduction in Trauma & Orthopaedics
19% reduction in Rheumatology

Reduction in MRI expenditure

31% reduction Apr 15-Jan 16 compared with Apr 16-Jan 17
46% reduction in Jan 16 v Jan 17

Reduction in waiting times for MSK services, despite increase in activity

99% RTT (referral to treatment) rate
85% of patients are seen in physio clinic within 3 weeks from GP referral
Working in partnership with Nottingham
Connect Health demonstrates further operational efficiencies and improves patient outcomes.
Working in partnership with Nottingham West CCG and Nottingham North & East CCG (NW & NNE) to provide the MSK service since April 2016, Connect Health is proud to release updated figures relating to efficiencies and outcomes, up to April 2019.
Education
Education at Connect Health, through the Academy and student placements, is designed to drive the highest standards of clinical and operational excellence.
Connect Health Academy
The ongoing education of clinicians at Connect Health is managed and delivered by the Connect Health Academy.
The Academy provides education via 11 different curriculum streams. Clinicians are educated at a level that is appropriate for them depending on their current level of competency to maximise all learning experiences. Education streams span fundamental principles of practice such as shared decision making, exercise rehabilitation and communication as well as more specialised topics such as Pain and Psychology, Occupational Health and Rheumatology.
The education pathway begins with a comprehensive graduate and accelerated development programme and has progressions up to developing consultant level. There are also educational opportunities in operational and leadership areas as well as education itself.
The curriculum is delivered via a blended learning style and all staff are afforded a minimum of 5% blocked time to attend training sessions to ensure ongoing development, except at new graduate level who are provided with 10% blocked time to ensure they have enough opportunity to develop.
Education at Connect Health is a mixture of taught sessions through the Academy and work-based learning through supervision, peer learning and mentoring.
Aims of the Academy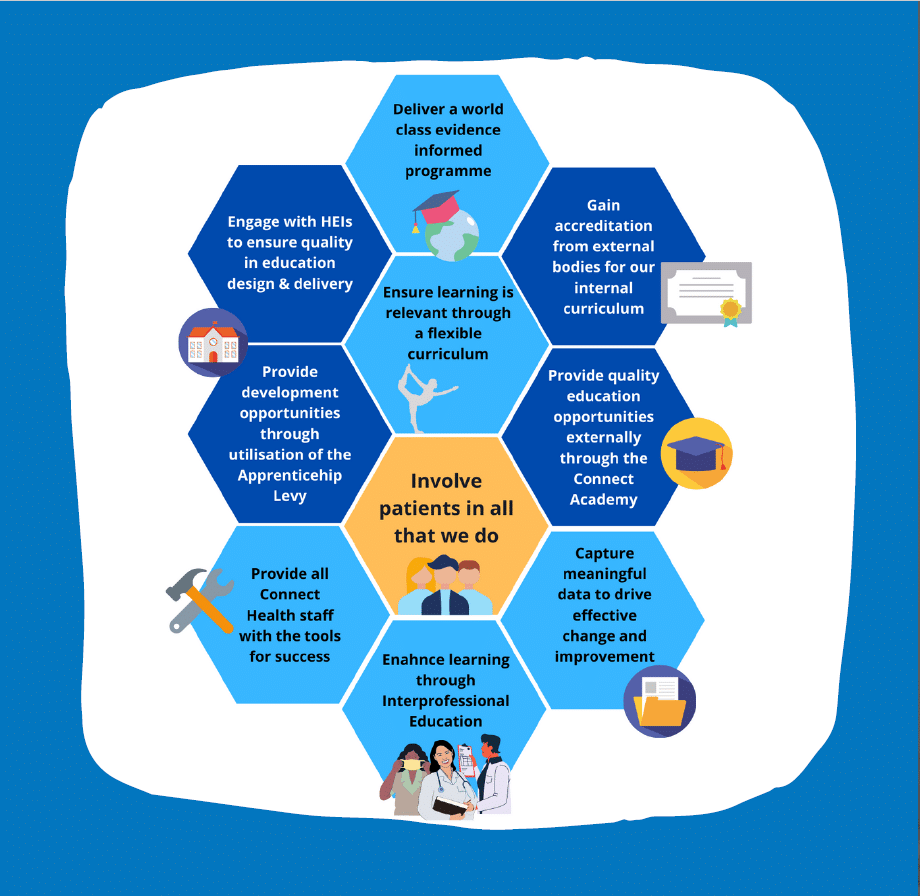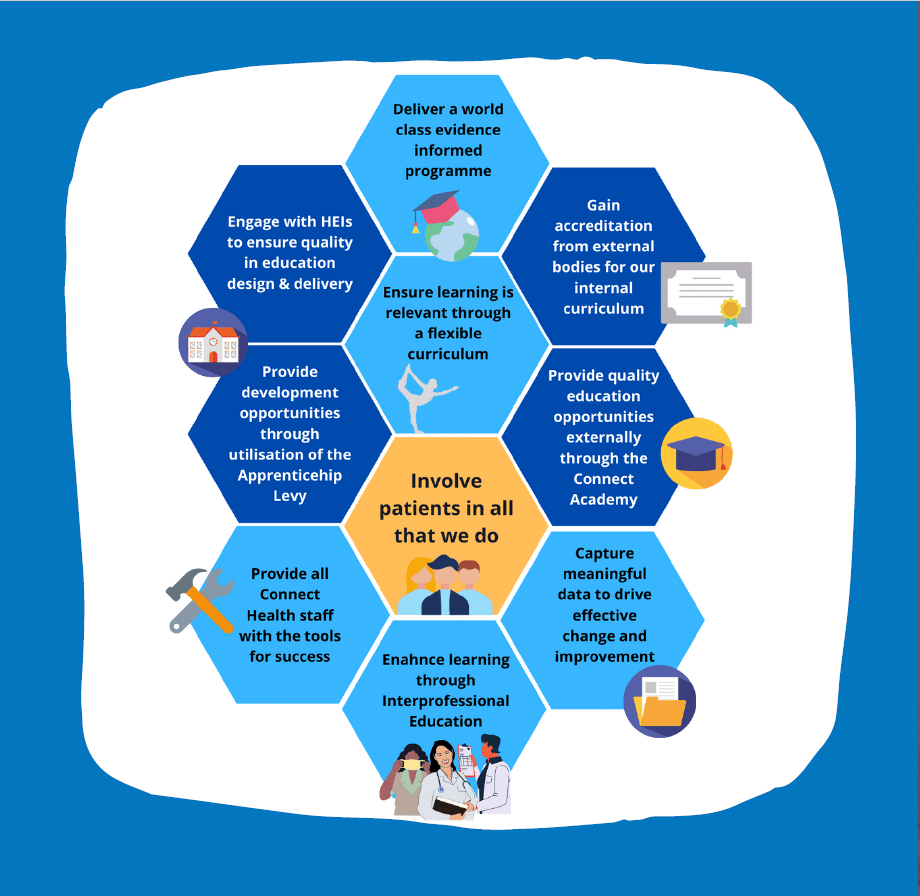 Virtual student placements
We have a comprehensive student placement programme in place with both face to face and virtual options available. We have relationships with HEIs throughout the UK and provide up to 200 students placements a year that span across a number of professions.
During a student placement, students can access education via our Academy and are encouraged to contribute towards it during their time with us.
We have a dedicated group of placement supervisors within Connect who are able to provide an excellent student experience.
Connect Health is establishing itself as an organisation publishing research on a regular basis, with the outcomes used to understand, adapt, and improve clinical delivery across community healthcare as well as the development of effective patient treatment programmes, at a local and national level. Research leadership provided by our Research Lead, Rob Tyer (Clinical Lead, Northumberland Joint Musculoskeletal and Pain Service) with strategic oversight from Andrew Cuff (Consultant Physiotherapist) we expect our research output and impact to continue to gather speed over the coming years.
In 2020, we published research in a variety of peer-reviewed journals including the British Medical Journal (Quality), Rheumatology Advances in Practice, Journal of Orthopaedic and Sports Physical Therapy, Musculoskeletal Science and Practice, and Musculoskeletal Care.