Transitioning MSK services
Mobilisation process
Connect Health's transition team is made up of clinical and operational experts whose full-time role is to lead every new service mobilisation from contract award through to high performing service in minimal time that is trusted reliable and delivers… consistently
Connect has successfully launched 14 MSK services in the last three years.  Our unique Service Transition Team is dedicated to managing the mobilisation of new services and transitioning to 'business as usual' with KPIs achieved, colleagues settled and patients receiving a high-quality service very quickly – a challenge in all services where change is required overnight by the NHS to improve services.
"Connect has a robust approach to mobilisation, promoting positive relationships and putting the patient first at every step."
Clare Barratt, Solutions and Development Manager – Planned Care, Wolverhampton CCG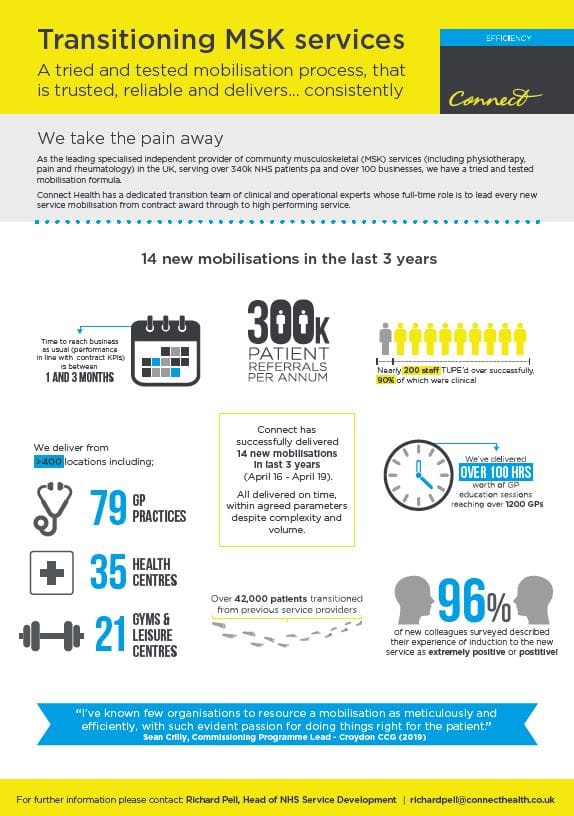 Follow the link below to view the full Transitioning MSK Services infographic
From the patient to the local health economy, Connect's services integrate with all stakeholders to support the health and wellbeing of the population
The service we deliver in a local area is dictated by a specification written by local NHS commissioners so there is variation both in terms of the clinical model and of other elements such as waiting times.
Connect has developed an MSK model that delivers the most appropriate evidence-based care for patient's individual needs, ensuring that services are delivered quickly and in the right place. From referral, triage, and treatment, patients have a seamless journey.
This tried and tested method is supported by our extensive clinical team who both individually and as a team demonstrates our commitment to delivering quality outcomes, seamless care, innovation and value for money.
Download the MSK Model Pathway infographic