An innovative digital self-assessment tool – PhysioNow – is supporting MSK patients in these challenging times.
As the country grapples with another lockdown, further delays to elective treatment pathways are expected, impacting our health and wellbeing and creating a significant accumulation of demand for MSK (musculoskeletal) physiotherapy care.
Already we know that one in three people have a MSK problem such as arthritis and back pain – that is a staggering 18.8m(1) people in the UK. Inevitably, physical and mental health concerns are being compounded by the effects of Covid.
On reflection, we were fortunate to have introduced PhysioNow, our digital triage tool for musculoskeletal physiotherapy services, at the beginning of 2020 before Covid broke. "PhysioNow powered by Phio" is based on EQL's successful Phio tool – a clinically-led chat-bot – which has been customised to our needs. With considerable clinical expertise and extensive data, it provides an agile and remote triage and support tool for MSK conditions.
Clinically developed and constantly refined, sophisticated algorithms guide users to the appropriate pathway, enabling the right care, at the right time, from the right person. It enables patients to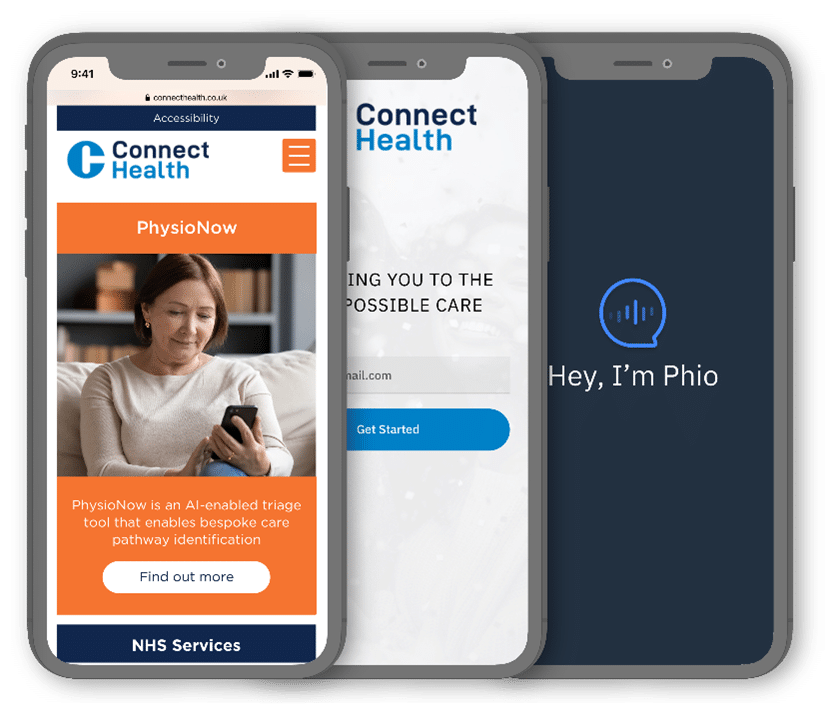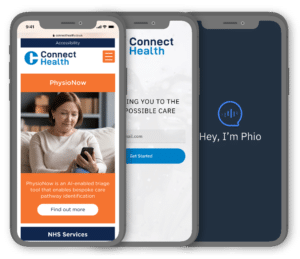 be empowered to sit in the driving seat, providing them with the right tools to take ownership of their health.
We are absolutely convinced that due to its constant testing by patients and senior clinicians, it is probably the most advanced and comprehensive tool of its kind in the field of MSK physiotherapy.
One of the criticisms of other triage tools on the market is that they direct a lot of patients to 111 and A&E. Here at Connect Health we have spent 6 months refining the decision tree, painstakingly scrutinising everything that has been directed to urgent care, collecting user feedback and undertaking patient focus groups. Clinical development has been based on ongoing review of outcomes, adapting to over 3000 scenarios with continuous monitoring and refinement. This has resulted in only 5% of outcomes being directed to urgent pathways.
Findings so far
Scale
Up to the end of October 2020, 4983 patients were offered PhysioNow with 3063 completing PhysioNow digital assessments across 12 services in England and Wales. That is a 62% completion rate.
Outcomes
Throughout the pilot, our clinical decision tree continued to be developed and enhanced to improve accuracy of outcomes for our patients
95% of patients were triaged to our PhysioLine urgent or routine service
What does this mean for patients?
By introducing a digital pathway, that is available 24/7, we have been able to offer our patients an increased choice of how and when they access our services.
We found 35% of patients completed their assessment outside of our office working hours.
In addition, we saw patients of all ages interacting with this digital route and completing PhysioNow assessments.
On average, patients complete the assessment the same, or the next day, allowing them to access our care pathway very quickly.
We've had multiple patients trigger NHS 111 with suspected CES (Cauda Equina Syndrome) which is a rare and severe type of spinal stenosis where all of the nerves in the lower back suddenly become severely compressed. When that happens, we call them the next working day.
One of our patients completed PhysioNow and was advised to seek urgent attention. We called them the next day (they had not sought any medical advice at that point). The clinician was concerned about their symptoms and referred them for an urgent MRI scan. The scan results were returned within 12 days and unfortunately, the scan detected that the patient had compression of the spinal cord related to undetected cancer. PhysioNow, identifying this patient as urgent, contributed to rapid diagnosis and hopefully this results in a better prognosis for the patient. In normal circumstances this patient would have had to wait for a physiotherapy appointment which could have been anywhere between 5-20 days –  PhysioNow was immediate!
Some people struggle with telephone and video calling, due to not being able to hear or identify/communicate their symptoms. PhysioNow has enabled them to articulate their symptoms and concerns online, which has made their subsequent consultation with a clinician much more effective. Because they have so much detail, the clinician is able to focus their PhysioLine consultation in a better way.
What do clinicians think of PhysioNow?
To be honest, some love it and some are still a bit unsure. We're limited due to Covid in terms of face to face appointments, so for a lot of patients we remove unnecessary duplication of appointments, hence providing a much more efficient and streamlined pathway. Essentially patients can be seen more rapidly and by the right person!
Clinicians can see the more urgent cases flagged in their clinical diary and they have been impressed by the improvements to patient care that these urgent pathways have created.
In 94% of cases, the clinician has agreed with the decision tree which demonstrates that trust is building. In the remaining 6% of cases, the tree was more sensitive than it needed to be, enabling safe decisions to be made.
GPs are benefitting too

According to NHS England, around 30% of GP appointments are MSK-related, equating to almost 15 million hours of GP time annually and over 6.8 million physio appointments.
GPs are interested in PhysioNow because it allows patients not only to self-refer directly via the telephone, but offers them a new option of online referral providing greater choice for patients. The online self referral route is automated by RPA (Robotic Process Automation) and enables patients to self refer and complete the PhysioNow assessment immediately and at any time of day or night. All without the need for any human clinical or administrative intervention.
In services with long waits to seek a GP appointment, it allows a good stratification of the urgent cases, picking up red flags in patients that haven't even consulted their GP. As a 24/7 service, it directs patients to a service that can help them, freeing up the GP for more urgent patients.
The future for digital at Connect Health
As we know from the NHS Long Term Plan(2), digitally-enabled care will soon be mainstream across the NHS. A 'digital first' option allows longer and richer face-to-face consultations with clinicians where patients want or need it. Connect Health has been fully embracing this for some time, and of course Covid has forced many providers to look at digital offerings, due to limited clinical capacity in some areas.
With a second lockdown, our priority continues to identify patients who need rapid urgent care, helping them to stay well, to recognise important symptoms early, and to manage their own health, guided by digital tools.
This is the start of our enhanced digital offer for patients. We're now actively looking how we can enhance our self-management programme for patients. The future is not very far away.
Learn more about AI Triage at the latest Connect Health Change webinar 'Digital healthcare transformation – the role of AI in self-assessment – Don't get left behind' held on Wednesday 18 November.
References 
(1) Versus Arthritis The State of Musculoskeletal Health 2019: https://www.versusarthritis.org/media/14594/state-of-musculoskeletal-health-2019.pdf
(2) NHS Long Term Plan: https://www.longtermplan.nhs.uk/online-version/chapter-5-digitally-enabled-care-will-go-mainstream-across-the-nhs/
Connect Health® and PhysioNow® are registered trademarks.