We are all working and living in unprecedented times and Connect Health is endeavouring to do all it can to support the NHS either by redeploying staff onto the frontline and offering a remote telephone/video based physio service to patients.
As the UK's largest, independent provider of integrated community MSK (musculoskeletal) services, Connect Health has therefore been very keen to accelerate the roll out of PhysioNow®, an AI-enabled triage tool based on Phio, that facilitates bespoke care pathway identification for Connect Health's MSK physiotherapy patients.
Working with EQL, part of the NHS DigitalHealth.London accelerator programme, PhysioNow provides immediate remote access to physiotherapy treatment and advice. Connect Health has introduced this additional digital channel, as it continues to invest resources into ground-breaking AI technologies in order to improve accessibility and patient choice.
Mike Turner, Chief Operating Officer, Connect Heath said: ​"At Connect Health we ​have consistently been at the forefront of innovation and are committed to using smart technology to support people during these challenging times and to improve outcomes for patients, health partners, customers and colleagues. PhysioNow puts patients in the driving seat, empowering them with tools to take ownership of their health."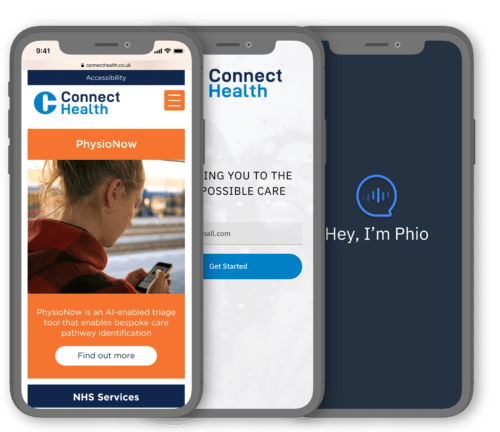 PhysioNow, a significantly enhanced version of EQL's app Phio, is an AI-enabled triage application that provides support and self-management when appropriate, ensuring patients get the right treatment. With tailored clinical content, PhysioNow uses powerful decision trees to accurately evaluate the right treatment pathway.
Compared with other tools on the market, which may only contain up to 10 questions, this tool has the intelligence to adapt to more than 3000 scenarios. Connect Health and EQL have together developed and tested PhysioNow, with senior clinical input to ensure safety, accuracy of decision making, clinical quality and effectiveness. Such partnership working means that within the field of MSK physiotherapy, the version of Phio launched by Connect Health represents the most advanced and comprehensive on the market.
Launching in NHS services across the country, the tool will ensure Connect Health's MSK patients have access to health services 24/7 allowing them to receive immediate support and advice.
Jason Ward, CEO of EQL, who along with Peter Grinbergs and Sam Medcraft co-founded the company, said: "​EQL's mission of delivering user-centric, clinically robust digital healthcare that is accessible to all is a perfect fit for the overstretched and under-resourced NHS. It proves that great technology can benefit all parties and break down traditional barriers. We are pleased that Connect Health will be joining our growing number of partners which include Clinical Commissioning Groups (CCGs), global insurance companies and Occupational Health providers."
Designed to improve patient outcomes via an app, it increases efficiency and fast-tracks patient care. Sophisticated algorithms guide users to the appropriate pathway: urgent care for those presenting with 'red flag' symptoms; face-to-face care for those not suited for self-management; and other tools for those presenting with low-grade injuries. PhysioNow's decision tree is underpinned by the latest clinical frameworks and this is closely monitored alongside the collection of vital lifestyle data.
Whilst initially providing an agile triage tool for all MSK conditions, there will be further exciting developments to enhance the pathway to follow later in the year ensuring that this partnership remains market leading, pioneering the use of such technology within this field.
Connect Health® and PhysioNow® are registered trademarks.