The right care, at the right time, for the right person
PhysioNow, built in partnership with EQL, is a triage application that provides initial contact with a patient within a digital Physiotherapy pathway. Powered by Phio, our clinicians have optimised PhysioNow for our patients and are constantly reviewing and refining powerful decision trees and sophisticated algorithms to guide users to the appropriate pathways, providing immediate remote access to physiotherapy treatment and advice.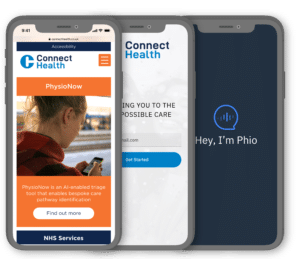 Access to the app can be from self-referral, referral from a GP, or healthcare professional, patients details will be registered and a link sent via text message or email. Users will then be able to remotely access an initial assessment 24/7 from anywhere, addressing apprehension from patients in accessing face-to-face services.
The science behind PhysioNow
Compared with other tools on the market, which may only contain up to 10 questions, this tool has the intelligence to adapt to more than 3,000 scenarios. Connect Health and EQL have together developed and tested PhysioNow, with senior clinical input to ensure safety, accuracy of decision making, clinical quality and effectiveness, making it one of the most advanced and comprehensive digital tools in the field of MSK physiotherapy.
Launched in NHS services across the country, the app will improve patient outcomes, increase efficiency and fast-track patient care.
Improving patient access to much needed care and advice
PhysioNow® in Wales: Evaluation summary, an innovative digital care project with the Welsh Government and NHS Wales Covid-19 Digital Solutions Fund.
In a move to help support the 887,000 people in Wales (which represents a third of the population) who suffer with musculoskeletal (MSK) conditions such as arthritis and back pain, the Life Sciences Hub Wales and the Welsh Government selected Connect Health to roll-out PhysioNow®. This digital triage and support tool was the only MSK technology selected and the feedback following implementation was extremely positive.
The project supported over 1000 patients from August to December 2020. Every Health Board within Wales were approached and almost all indicated a willingness to become involved, resulting in Cwm Taf Morgannwg and Hywel Dda Health Boards being selected to take part in the project. Connect Health, worked alongside partners EQL and PhysioSpace Cardiff, to rapidly provide the PhysioNow® technology within NHS environments, with a potential for scaling up across Wales.
Patient resources
Patient information on PhysioNow can be found here:
In addition to PhysioNow, Connect Health provides a range of digital tools including:
PhysioLine – physiotherapy assessment and early intervention by telephone introduced by Connect Health over two decades ago.
Physitrack – web and iOS-based high-quality exercises and patient information, where patients can engage visually with a clinician, watch video demonstrations of their prescribed exercises and record compliance.
Patient Portal – enabling patients to manage appointments with one click from their smartphone.
Virtual physiotherapy service – rapidly scaled up with home working in mind and proving to be a vital and practical way of supporting a wide range of patients, NHS colleagues and other key workers who are going above and beyond every day.
Connect Health® and PhysioNow® are registered trademarks.