Connect Health First Contact Physiotherapy Services
First Contact Physiotherapy (FCP) services allow people with Musculoskeletal (MSK) conditions to access specialist MSK expertise at the beginning of the pathway. This ensures early diagnosis, optimised management, and timely onward referrals when indicated.
Connect Health are the only FCP provider acknowledged as a key stakeholder in the development of the HEE Roadmap to Practice. Having worked with HEE to develop this crucial resource, we have since employed a cohort of HEE-trained supervisors enabling us to support the professional development of all of our FCPs at scale. The Royal College of General Practitioners (RCGP), British Medical Association (BMA) and the Chartered Society of Physiotherapy (CSP) recommend that FCPs are employed by the incumbent providers of the local NHS MSK services. This supports the development of an integrated MSK pathway that realises efficiencies, streamlines care, and improves quality.
The Challenge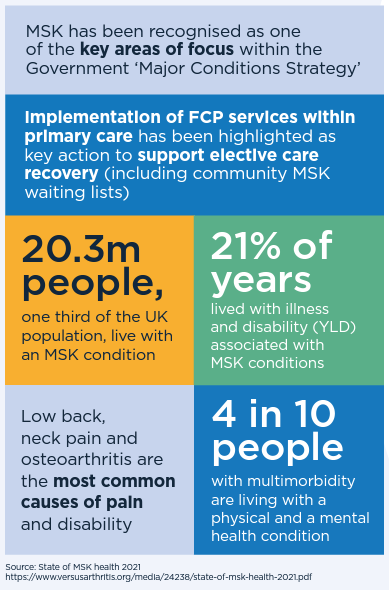 Current challenges with Primary Care
• Capacity – difficulty accessing primary care due to workforce supply
• Caseload complexity – long-term conditions and multi-morbidity
• Workforce retention – burnout and wellbeing
• Long waiting times – into services from primary care
The Solution
Connect Health's FCP offering draws on 30 years of experience in delivering direct access physiotherapy and MSK specialist expertise. During that time, we have embraced and pioneered dynamic, digital, and virtual options, alongside face-to-face care to support management of demand, improve choice and improve access for patients. This ensures enhanced pathway engagement and insight.
Our FCP provision enables expert and capable clinicians at the start of the pathway to ensure that you have both a quality, and cost-effective method of delivering patient care.
It has been wonderful working with Connect Health and their team of FCPs as they support their practices and PCNs embed physical activity for their staff and patients. I have been really impressed by the team at Connect Health for their ambition to help practices achieve the Royal College of GPs active practice charter.

– Dr Hussain Al-Zubaidi, RCGP Lifestyle & Physical Activity Champion
FCP Pathway Example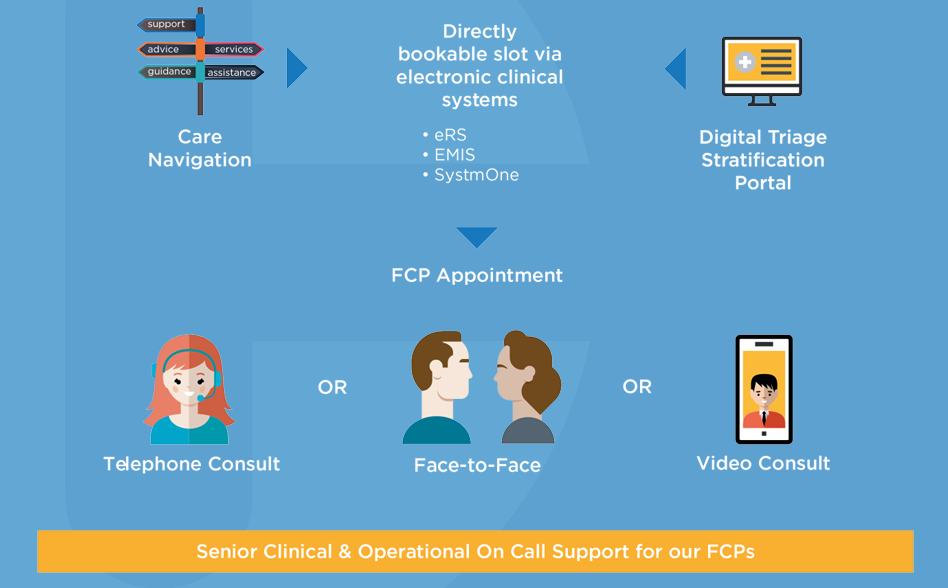 Helpful resources
Connect Health is a leading provider and enabler of community services, including: MSK (musculoskeletal), Mental health, Chronic pain, Rehabilitation, Rheumatology, First Contact Practitioners (FCP) and Long Covid services
Get in touch with our team to discuss your business enquiry
Patient feedback
Karen explains how the Pain Management Programme has equipped her with the necessary learning to manage the pain and continue living her best life.

We speak with Sharon around her experience being part of the Pain Management Programme currently supporting those living with persistent pain across Wolverhampton.

We hear from Diana who suffers from chronic pain and has attended the Connect Health Pain Management Programme in Wolverhampton.