Digital tools to help you
PhysioNow is a digital self-assessment tool that helps you rapidly get the best care to manage your symptoms or injury. Developed using our clinical expertise, PhysioNow allows you to begin your care journey with us, at your convenience.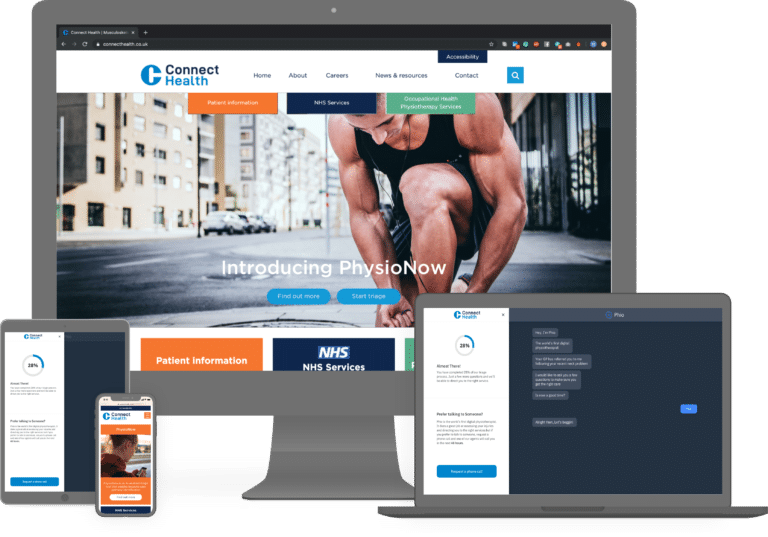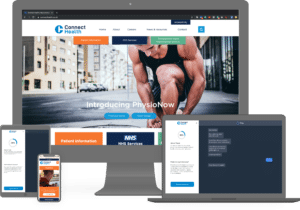 A quick and accessible assessment that typically takes 15 minutes, you can complete this at your leisure. The assessment can be completed on a smart phone or tablet and at the end of the assessment you will be advised on how soon you can expect to speak to a clinician. Please do not worry if you cannot give the full details of your symptoms, the digital assessment is designed so that the questions asked will direct you to the right clinician in an appropriate time frame.
GP Referrals – If you are referred by your GP or healthcare professional, your details will be registered on our system and you will receive a link via text message or email to complete your assessment, this will be available to you to complete for 5 working days. If you would prefer to speak with someone, please call us.
Self-Referral
Several of our services offer a self-referral option to access physiotherapy, without needing to visit your GP first. You can find out if self-referral is available in your service by visiting the service page here. You can complete your assessment first then, once complete, one of our patient care advisors will contact you to arrange a telephone appointment with one of our clinicians.
To begin your digital self-assessment – please click the self-referral button below to register.
Self-management exercises
Whether you are managing your condition independently or you are waiting for an appointment with a physio, we have some great resources to assist with your recovery.
We have a whole section of resources to help you understand and deal with pain management – from back to knee and everything in between.
Additional Resources to help with your self-management
Escape Pain – The ESCAPE-pain app is a free resource produced in the NHS by the Health Innovation Network and Salaso Solutions Ltd. It is available on Apple and Android smartphones, and tablets.
Versus Arthritis Helpline – You don't need to face arthritis alone. Our advisers aim to bring all of the information and advice about arthritis into one place to provide tailored support for you.
Pelvic Obstetric Gynaecological Physiotherapy – POGP are physiotherapists who have a special interest in women and men's health. Our physiotherapists who work with pregnancy, postnatal, pelvic pain, and pelvic floor dysfunction.
British Shoulder and Elbow Society (BESS) – Shoulder/Sub acromial Pain Syndrome advice and videos.
One You Applications – NHS recommended applications for healthy living and well-being. All apps are free to use and available on Apple and Android smartphones.
Connect Health Facebook Page – Virtual Exercise Class – Follow us on Facebook for information, video & other resources.
Osteoarthritis – Joint Replacement – Full of information/exercises for pre and post-operative Knee/Hip Osteoarthritis.
Connect Health will handle your data securely, confidentially and in line with the General Data Protection Regulation 2018. The information we obtain will only be used and shared with others for the purposes in which it was obtained (i.e. for the management of your medical condition) and will not be used for marketing purposes. For further details on how we handle your data, view our full Privacy Policy.
Connect Health® and PhysioNow® are registered trademarks.
Back to resources