Flippin' Pain™ is a public health campaign with a clear goal: To change the way people think about, talk about and treat chronic pain to improve the lives of those affected by it.
The campaign is the only one of it's kind in the UK and this September it'll be hitting the road for a week-long extravaganza of public events and community engagement via a flagship Community Outreach Tour and peloton in Lincolnshire.
Join Flippin' Pain on tour!
This September, Flippin' Pain will embark on a world-first Community Outreach Tour, in Lincolnshire. Renowned Pain Champions – made up of pain scientists, healthcare professionals and patient advocates- and keen cyclists, will be hopping on their bikes to take part in a peloton tour covering the length and breadth of the county. They will deliver the messages of the campaign to the people that need them most, via an array of free-to-attend public events.
Joining the riders will be an exciting pop-up experience laboratory on wheels, the Brain Bus. An immersive, interactive and attention-grabbing spectacle inviting people to experience first-hand some of the mind-blowing lesser-known phenomena of pain science. The tour will stop off at multiple locations across the county, inviting people from all walks of life, including medical professionals and those with persistent pain and their family and peers, to engage with the campaign. By collaborating with local authorities, health and care organisations and charity partners, Flippin' Pain will achieve significant reach and deliver impactful change within the Lincolnshire community.
Events & Activities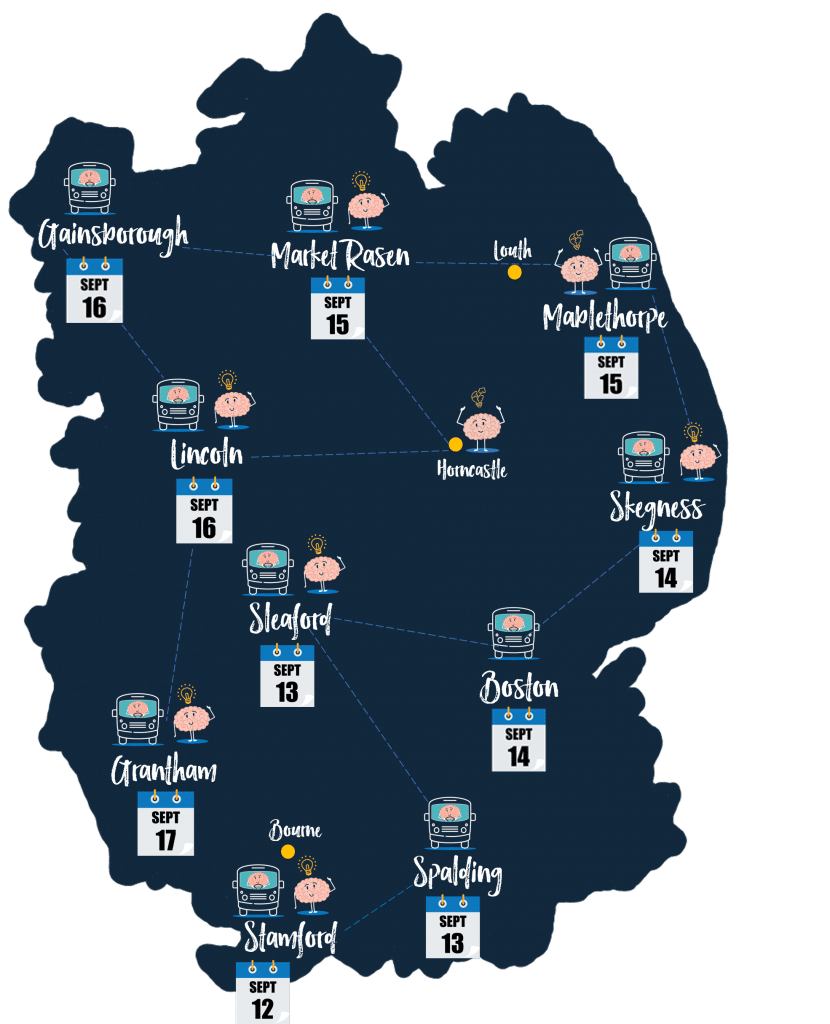 The Outreach Tour, fronted by the Peloton, will visit a minimum of 10 x locations spanning the county of Lincolnshire over a six-day period – delivering at least 2 public engagement events each day.
Sun 12th Sept – Stamford
Mon 13th Sept – Spalding
Mon 13th Sept – Sleaford
Tues 14th Sept – Boston
Tues 14th Sept – Skegness
Wed 15th Sept – Mablethorpe
Wed 15th Sept – Market Rasen
Thurs 16th Sept – Gainsborough
Thurs 16th Sept – Horncastle
Thurs 16th Sept – Lincoln
Fri 17th Sept – Grantham
FLIPPIN' everything you thought you knew about PAIN
Join Professor Cormac Ryan – Community Pain Champion for the Flippin' Pain campaign – and a panel of pain experts (including people living with persistent pain) for this fun, informative, free and easy to understand public seminar introducing some of the latest, often surprising scientific understanding of pain. Flippin' your understanding of pain could be your first step on the journey to recovery.
So you Understand Pain… What Next?
If you're a healthcare professional, then chances are a lot of your time is spent helping people who are living with long-term pain. Persistent pain is common and it can be complicated. Applying an understanding of pain to your clinical practice can be challenging. 'So you Understand Pain… What next?' is a series of interactive practical workshops for healthcare professionals, facilitated by experts in the field, that will explore ways to improve your skills and confidence in supporting people living with persistent pain.
The Brain Bus
Flippin' Pain is dedicated to bringing the real science of pain to the people. The Brain Bus is our immersive, interactive mini-event village. Experience first-hand some of the mind-blowing lesser-known phenomena of the human brain and our senses. Understanding pain could be your first step towards recovery. Pop along and take part in one of our experiments, try out an immersive Virtual Reality experience or simply have a chat with one of our pain science experts that make up the Brain Bus team.
Pain: Do You Get It? The Quiz
PAIN… do you get it? Persistent pain is common and it's also often misunderstood. Join Flippin' Pain's team of pain experts for a coffee and a chat and test your knowledge about all things pain. Understanding why you hurt could make it hurt less.
For more information about the Lincolnshire Community Outreach Tour, how you can get involved and support the campaign, or if you would like to bring an outreach tour to your community, please contact info@flippinpain.co.uk.
Flippin' Pain™ is powered by Connect Health®.