First Contact Practitioner (FCP)
Primary care is facing increasing pressures with an ageing population and issues with training and retention of GPs. As part of the NHS long term plan there is a commitment to narrowing inequalities and addressing unwarranted variations in care, and ensuring patients have direct access to First Contact Practitioners (FCP).
FCPs are primarily physiotherapists working at an advanced clinical level who can provide a streamlined and cost-effective service in primary care by promoting self-management, improving patient care and reducing GP workload. The Chartered Society of Physiotherapy (CSP) estimates that FCPs may see up to 50% of the GP musculoskeletal (MSK) caseload (NHS England and NHS Improvement 2019). Self-referral to physiotherapy has been shown to be 25% cheaper to the NHS than a GP referral and has been fully evaluated and recommended by NICE (Physiotherapy in primary care summary briefing, 2017).
Connect Health's FCP o­ffering can provide you with a quality, cost e­ffective method of delivering patient care.
We have 20 years of experience delivering direct access physiotherapy. During that time, we have embraced digital and virtual options to support management of demand and to improve choice and access for patients
See our infographic here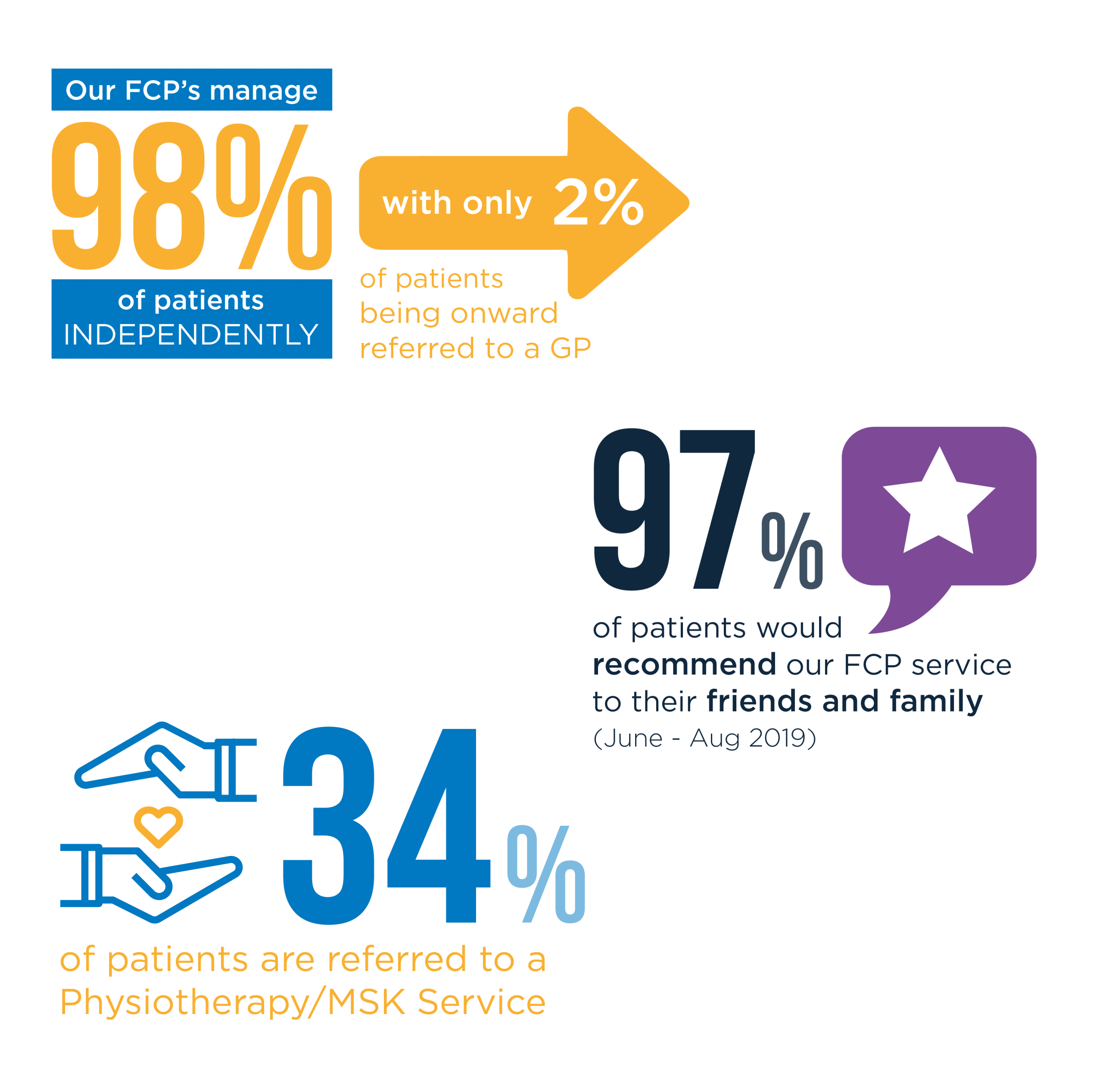 MSK Service or FCP – Case examples
What is a First Contact Physiotherapist (FCP)
First contact physiotherapists (FCPs) are physiotherapists working at an advanced clinical level within primary care with extensive expertise in the clinical assessment, diagnosis and management of musculoskeletal (MSK) conditions.
FCPs see patients with (suspected or diagnosed) MSK conditions as the first point of contact, instead of a GP, and can be accessed directly by contacting the practice's reception.
How is this different to self-referral?
Typically, self-referral services are accessed by patients who know they need to see a physiotherapist.
As FCP appointments are booked through the GP reception, FCPs see many patients who had not considered seeing a physiotherapist in the first instance.
Also, unlike self-referral, FCP is not (early access to) a course of physiotherapy. Should the patient require further treatment, then the FCP can make a referral.
PCN pilots
Connect Health has piloted FCPs nationally across several PCNs (primary care networks) with great success. As part of FCP implementation, we:
Worked with each PCN to determine whether FCP would add value to their pathway and population.
Collaborated with stakeholders at place and system level to ensure FCP integrated within existing pathways.
Identified opportunities for pathway improvement including access, efficiency and partnership working such as with local authorities, link workers and the third sector.
Co-designed and delivered effective care navigation processes and training to ensure the patient was seen in the right place, by the right person, at the right time.
South Tyneside CCG FCP Pilot
The evaluation data highlights that an average of 93% of patients were suitably seen and managed within the FCP clinic.
Wakefield CCG FCP Pilot
The evaluation date showed that 92% of patients were suitably managed within FCP either referred to physio or self-managed.
Happy to see the FCP and felt they were appropriate, they addressed my issue I feel the care was different to any GP as the FCP had a more detailed knowledge of what was wrong. The appointment was the next day – happy with this.