'I feel like I've missed out on more than 10 years of my life; I wish I'd have known about this sooner' says Skegness resident battling chronic pain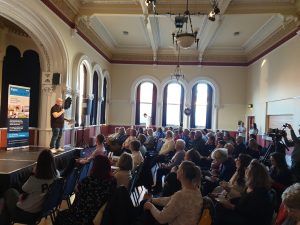 Flippin' Pain brings Pain: Do You Get It? to Lincoln, where an anticipated 40% of residents are thought to experience chronic pain. In fact, research shows that Lincolnshire is rated in the top 10 areas of the UK with high levels of opioid prescriptions for pain[1].
The initiative is being delivered by Connect Health, the largest, independent provider of integrated community musculoskeletal (MSK) and pain services in the UK.
Chronic pain poses a significant issue across the globe, negatively affecting people's physical and mental health, as well as their ability to stay in work, and their relationships with friends and family.
The educational event, which will be held at 1pm at The Blue Room, Lincoln, on Tuesday 18th February 2020, will help people from local communities – including those living with pain and their friends and families – have a better understanding of pain. and equip them with the knowledge and confidence to make improvements.
The Lincoln event follows two successful sessions in Boston and Grantham, which welcomed over 160 attendees, including 66-year old Carolyn Johnson from Skegness. Carolyn told Boston attendees how she suffered with pain for over 20 years, which led to her being diagnosed with Spina Bifida Occulta (SPO) 12 years ago, a malformation of the spine. She said:
"The pain had an impact on every aspect of my day, and I feel like I have missed out on more than 10 years of my life. I couldn't spend time with my family, such as going for a walk with my grandchildren – I won't ever get that back.

"I found out about Pain: Do You Get It? and I wish I had known about it sooner. Following the event, I took a more holistic approach and I started waking up with an 'I can' attitude, rather than 'I can't', and meditation has really helped me."
Tim Atkinson, from Boston, a Panel member at both the Grantham and Boston events, is encouraging other pain sufferers to stop depending on medication. He said:
"I was diagnosed with Psoriatic Arthritis 25 years ago, which affects the joints in my feet, legs, arms and hands. I was put on pain and inflammatory medication, but eventually the pain broke through and I was given a stronger drug that was nasty. I was taking high doses regularly and it became an unnecessary routine – it was doing more harm than good.
"There's a big over-reliance on pain medication across the country and in our region it's great that this initiative is suggesting other ways of controlling pain. I tried various methods such as cold-water swimming, yoga and meditation. I hope people speak up about their pain and try to find out more."
Internationally acclaimed pain scientist, Professor Lorimer Moseley, who has 25 years' experience understanding and treating persistent pain, will co-host the Lincoln event. The charismatic Australian Lorimer led the 'Pain Revolution' movement throughout Australia, has 300 published research articles, has authored six books and presented a series of Ted X Talks, putting him at the forefront of thinking in contemporary pain science. Joining him is Professor Cormac Ryan, a Connect Health 'Pain Champion' and Professor at Teesside University, who has written over 60 journal articles on chronic pain and pain education.
Richard Pell, Connect Health's Head of NHS Service Development commented:
"We've hosted several Pain: Do You Get It? events and the feedback suggests that people are very keen to understand more about pain science – some of which is very different from what medical professionals believed to be true several years ago. We hope the Lincoln event will continue to help people have a better understanding of pain, which in turn will give them more of the knowledge, skills and confidence to take back control and make improvements."
The session will introduce the most up to date understanding of pain in an engaging, entertaining, and easy to understand way, busting many common myths and misconceptions about pain. An interactive discussion and audience Q&A will combine opinions and tips from people with experience of persistent pain and clinical experts
The event comes ahead of a busy summer, which will see the Pain: Do You Get It? launch a roadshow across Lincolnshire, focusing on grassroots engagement with local people including within hard to reach areas of the county.
To find out more about the Pain: Do You Get It Lincoln event and register your attendance, visit: www.eventbrite.co.uk/e/pain-do-you-get-it-lincoln-tickets-91283293789
[1] Manchester and Nottingham academic research, via Pulse Today, 2019