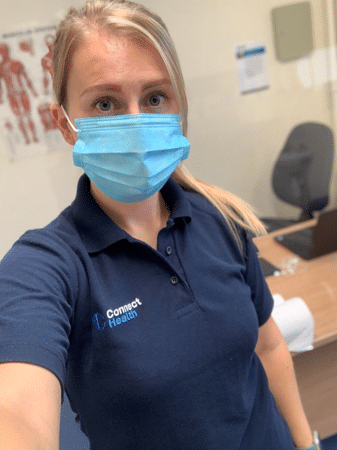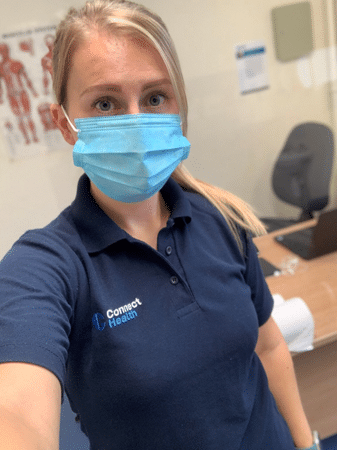 Thursday 13th August marked my return to Onsite OH Physiotherapy, at one of our large client sites in Manchester – for the first time in 5 months!
Prior to this return, risk assessments had been conducted collaboratively by the site and Connect Health. Assessments included social distancing, minimising employee and staff contact, decreasing contamination areas, thorough cleaning rosters and PPE, to name a few.
The week before returning, I had a meeting with the management team, to make sure that I had completed all the necessary paperwork and assessments. The discussion allowed me to gain answers to any worries or queries that I had and clarifying that I was happy to return to site.
Personal Protective Equipment (PPE) was dispatched to my home address. I keep my PPE in the car, only taking onsite required amounts for each clinic session. Surface wipes and hand gel has also been provided by Connect Health.
All clinicians have completed a personal risk assessment. On the back of the results, I was given the green light for go, to return to site.
A few days before my first clinic, I attended site for a 'Covid induction'. I was shown new safety measures and what specific interventions have been put in place since my last visit back in March.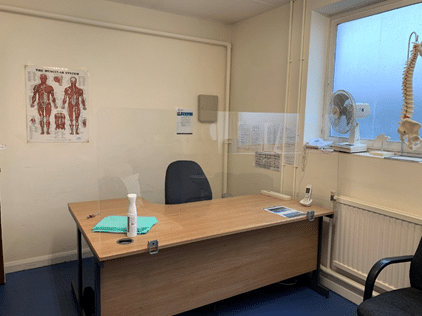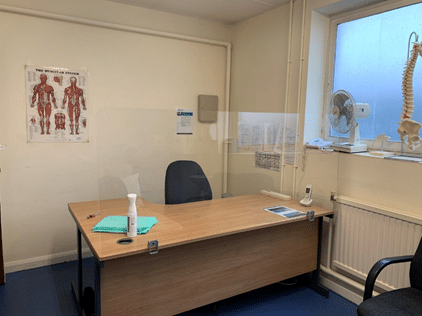 pladis had kindly supplied and fitted perspex screens to my desk, to act as physical barrier between myself and others. Hand gel had been fitted to the wall inside and outside of the room. Fabric chairs had been replaced with wipeable ones; and I have been provided with extra cleaning products for any surfaces in the room. There is signage on the door which states appointment only and that masks should be worn when entering the room. pladis have also supplied me with masks for employees to wear.
In the factory, social distancing is in place and a one-way system has been implemented around the shop floor. This reduces high traffic areas and allows for different entry and exit points to each area of the factory. As a food site, hand hygiene and factory PPE (hair net, snood, earplugs as required, and overcoats) are already in place. In line with government guidance, face coverings are provided by pladis to anyone on site who wishes to wear one and I am able to wear one at my discretion.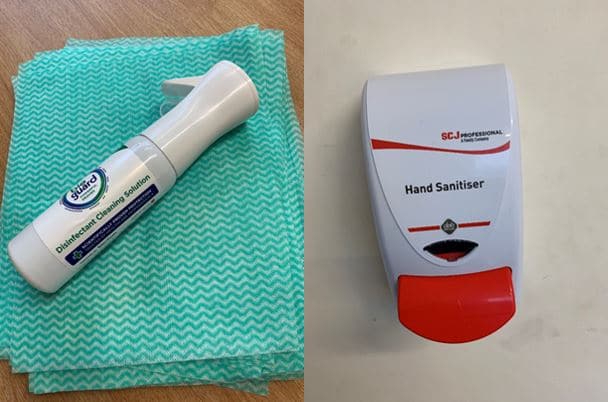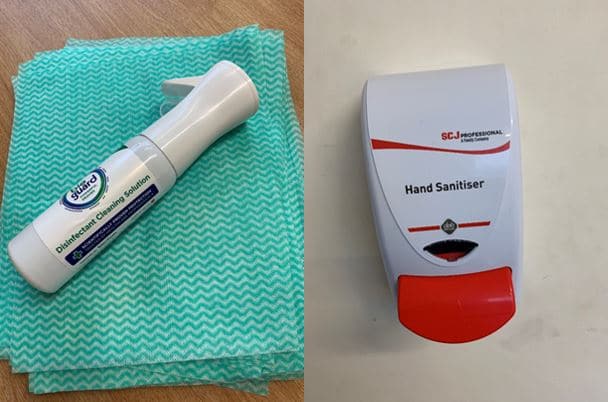 Before returning to clinic, it was discussed with key stakeholders at pladis, that only urgent cases, those requiring workplace assessments (WPA) will be first booked into the diary. All other non-urgent cases will continue to be assessed remotely on the phone.
It is my decision, on the back of clinical reasoning, as to whether an employee is booked in for an onsite assessment, and this can be discussed with me prior to booking in any appointment.
Before the employee attends an assessment, they are required to complete a risk assessment with me to categorise them into low, medium or high risk to attend onsite appointments; and only low risk category employees are currently being seen.
During my first clinic, I completed a workplace assessment (WPA) in the factory. This consisted of assessing an employee on different lines, to see if transferring departments would be beneficial. Ample time was allocated to complete this assessment and the associated reports. The remainder of the clinic was utilised by completing review consultations remotely on the phone, as well as scheduling in more workplace assessments for the coming weeks. There is also extra scheduled cleaning time between face to face appointments.
Initially, we have returned in a phased capacity. Over the coming weeks, this will be increased back to the normal onsite hours.
Throughout the whole process I have felt included, safe and able to air any of my concerns.
Both Connect Health and pladis have been brilliant in facilitating my return to site. I am looking forward to increasing our hours back to normal. Perks of the job, I got to try their new biscuits!
If you would like to find out more about Onsite OH Physiotherapy or learn more about our range of proactive services, contact us at occhealth@connecthealth.co.uk.